Fjötrar 101 – Restraints 101
Tuesday, 23 November, 2021 @ 20:00

-

22:00

2000 kr.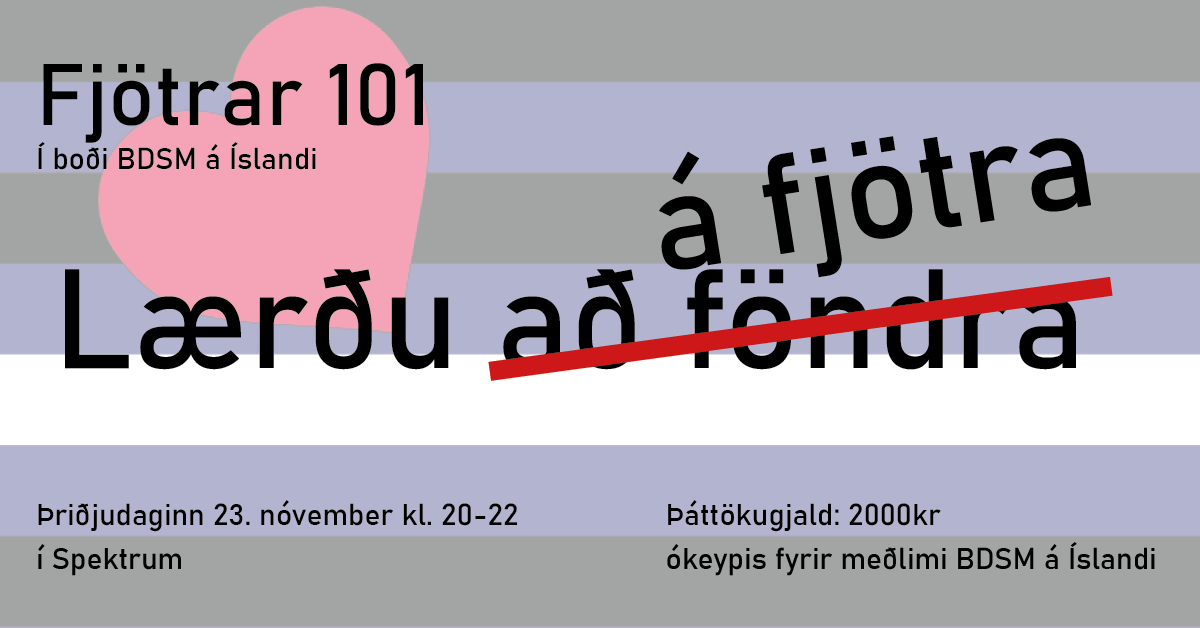 English below
BDSM á Íslandi býður upp á námskeiðið "Fjötrar 101". Námskeiðið er hugsað fyrir öll þau sem hafa áhuga á að kynnast þeim fjölbreyttu aðferðum og tólum sem hægt er að nota í fjötrunarleiki.
Skráið ykkur hér: https://forms.gle/zDfNXbicPvSj7vTk8
mismunandi gerðir fjötra
mismunandi tilgangur fjötrunarleikja
samþykki
öryggi
Mismunandi fjötrar verða einnig til sýnis. Kennari á námskeiðinu er Helga Vollertsen. Verð 2000 kr, en ókeypis fyrir félaga BDSM á Íslandi. Húsið opnar kl. 19:30.
Hægt er að gerast félagi í BDSM á Íslandi á staðnum með því að greiða árgjald félagsins, sem er kr. 2.000.
Við vonumst til að sjá sem flest!
Stjórn BDSM á Íslandi
---
BDSM in Iceland is offering a course on restraints. The course will introduce the methods and implements that can be used for restraints.
Please sign up here: https://forms.gle/zDfNXbicPvSj7vTk8
Different restraints
Different goals of restraining
Consent
Safety
There will be a variety of restraints on show so that participants can familiarize themselves with them. The course will be taught by Helga Vollertsen. The participation fee is 2000 ISK. Members in BDSM in Iceland can attend free of charge.
You can become a member of BDSM in Iceland by paying the club's annual fee, 2000 ISK, when you show up. Please show up early for registration, you are welcome as early as 7:30 PM.
We hope to see as many as possible!
The Board of BDSM in Iceland.